#HipNJ spoke with Dr. Sayed Ibrahim, CEO and Founder of SprinJene, about his unique oral care company.
"SprinJene is an oral care company unlike any other," Ibrahim states. Every SprinJene toothpaste features their patented formula of zinc and cold pressed black seed oil. Together, these ingredients effectively clean and protect teeth and gums from inflammation, bacteria and gingivitis, all while helping to bring relief to dry mouth sufferers. 
They continually source the globe for advanced, healthy ingredients to include in their products to improve the oral wellness of brushers everywhere. "We are dedicated to continually advancing our processes, products and certifications to provide the best oral care products we can," Ibrahim says.
SprinJene's goal is to create products which are accessible to people of all backgrounds, and that are void of harsh chemicals and abrasives. They currently offer two toothpaste lines: SprinJene Original® and SprinJene Natural®.  
These are the only toothpastes on the market certified: Vegan, Gluten Free, Cruelty-Free, Kosher, and Halal.
They contain all of the good stuff (coconut oil, birch tree xylitol, acacia gum, natural flavors), are free from all the bad stuff (artificial dyes + preservatives, SLS, saccharin, animal byproducts), and are made with natural flavors.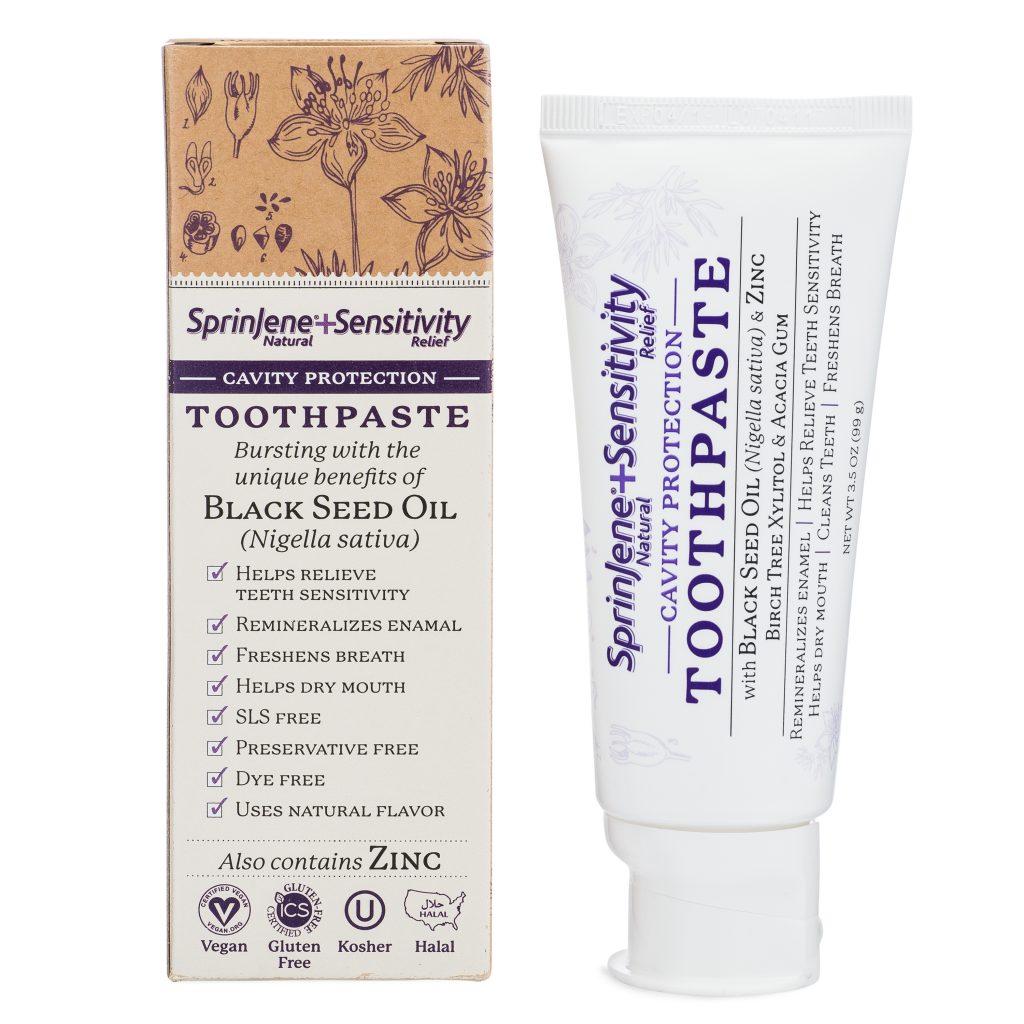 SprinJene also offers various options for consumers. These include Fluoride-containing and Fluoride-free options, adult and kids options, and sensitivity options.
SprinJene's headquarters are in Piscataway, which Ibrahim chose for specific reasons. "New Jersey is a center of manufacturing, raw materials, distribution and technology, so it was a natural fit," he explains. "Besides that, I am a resident of, and love, New Jersey, so there was a personal element there for me."
SprinJene also makes various social contributions. "I am a firm believer in education and supporting your local community," Ibrahim  says. They have been involved with/donated product to the following organizations:
NJ SBDC
Donations to Mosques
Donations to New Brunswick High School
Donations to Rutgers University
Minette's Angels
To learn more about SprinJene, click here.
Source : Hip New Jersey, Click  here.